Top 10 Farewell Songs from Bollywood in Hindi
Farewell is an occasion when we say good bye to people who are leaving an organization, school, college, locality etc. A party is held in which other speak about the leaving person about their contribution and how he is going to be missed. In Bollywood movies there are several occasions when this type of situations happens and songs are the integral part of the occasion. Here we bring you the top 10 songs in Hindi from such Bollywood movies which are popular and are played during a farewell parties.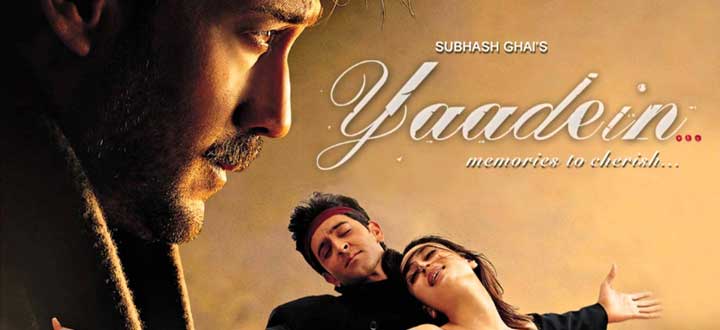 1. Chalte Chalte Mere Ye Geet Yaad Rakhna (चलते चलते, मेरे ये गीत याद रखना)
Movie: Chalte Chalte (1976)
Singer: Kishore Kumar
Music: Bappi Lahiri
Lyrics: Amit Khanna
The movie was directed by Sunder Dar and the music was given by Bappi Lahiri one of the budding music director of that time. The film tanked at box office but the songs were very good.
2. Yaadein Yaad Aati Hain (यादें याद आती हैं)
Movie: Yaadein (2001)
Singer: Sunidhi Chauhan, Mahalakshmi Iyer, Hariharan
Music: Anu Malik
Lyrics: Anand Bakshi
This song is from movie Yaadein which was released in 2001. It was directed by Subhash Ghai and movie was a hit so was its songs. The lead actor for the movie included Hrithik Roshan, Kareena Kapoor and Jackie Shroff.
3. Aye Jaate Huye Lamhon Zara Tehro (ऐ जाते हुए लम्हों, ज़रा ठहरो, ज़रा ठहरो)
Movie: Border (1997)
Singer: Roop Kumar Rathod
Music: Anu Malik
Lyrics: Javed Akhtar
This song is from movie Border released in 1997 and directed by J. P. Dutta. The film was super hit and is based on real events happened in Battle of Longewala fought between India and Pakistan in 1971.
4. Main Yaad Aaonga – Lagan (मै याद आऊँगा)
Singer and Lyrics: Lagan – Pakistani Band
Produced By: Xulfi at Xth Harmonic
5. O Janewale Ho Sake Toh Laut Ke Aana (ओ जानेवाले, हो सके तो लौट के आना)
Movie: Bandini (1963)
Singer: Mukesh
Music: Sachindev Burman
Lyrics: Shailendra
Bandini released in 1963 and directed by Bimal Roy was one of the most successful movies of that year. The film bagged national award for best feature film in hindi and captured nearly all Filmfare awards that includes best movie, best actresses (Nutan), best director etc.
6. Rahen Na Rahen Hum (रहें ना रहें हम महका करेंगे बन के कली)
Movie: Mamta(1966)
Singer: Lata Mangeshkar
Music: Roshanlal Nagrath
Lyrics: Majrooh Sultanpuri
Mamta was directed by Asit Sen and was released in 1963 where star cast included Ashok Kumar, Suchitra Sen and Dharmendra. The story theme is that of 'mamta' i.e. motherhood.
7. Zindagi Ek Safar Hai Suhana (जिंदगी एक सफ़र है सुहाना यहा कल क्या हो)
Movie: Andaz (1971)
Singer: Kishore Kumar
Music: Shankar-Jaikishan
Lyrics: Hasrat Jaipuri
The film Andaz was directed by Ramesh Sippy and came to theater in 1971. The film star cast included the superstars of that era Rajesh Khanna, Hema Malini, Shammi Kapoor and Simi Garewal. Hasrat Jaipuri got the best lyricist Filmfare award for this song. Kishore kumar was too nominated for the award but he lost to Manna Dey for Ey Bhai Zara Dekh Ke Chalo from movie Mera Naam Joker.
8. Aakhri Alvida (धड़कनें खामोश है, कुछ कहती नहीं)
Movie: Shoot Out At Lokhandwala(2007)
Singer: Strings
Music: Anwar Maqsood
Lyrics: Strings
Shoot Out At Lokhandwala was released in 2007 and the movie was directed by Apoorva Lakhia. The movie is based on real story of 1991 Lokhandwala Complex shootout.
9. Alvida Alvida Meri Rahe Alvida (अलविदा, अलविदा, मेरी राहें अलविदा)
Movie: Life in a metro
Singer: Kay Kay
Music: Pritam Chakraborty
Lyrics: Amitabh Varma
Anurag Basu was the director of the movie Life in a metro which was released in 2007. The lead pair in the movie was Shilpa Shetty and Shiney Ahuja. The film bagged 3 Filmfare awards for best supporting actress Konkona Sen Sharma, best supporting actor Irrfan Khan and best screenplay Rensil D'Silva.
10. Kabhi Alvida Naa Kehna (कभी अलविदा ना कहना)
Movie: Kabhi Alvida Naa Kehna
Singer: Sonu Nigam & Alka Yagnik
Music: Shankar Ehsaan Loy
Lyrics: Javed Akhtar
The movie Kabhi Alvida Naa Kehna was directed by Karan Johar and had lot of top stars like Amitabh Bachchan, Shahrukh Khan, Abhishek Bachchan, Rani Mukerji and Preity Zinta. The film did extremely well at box office.